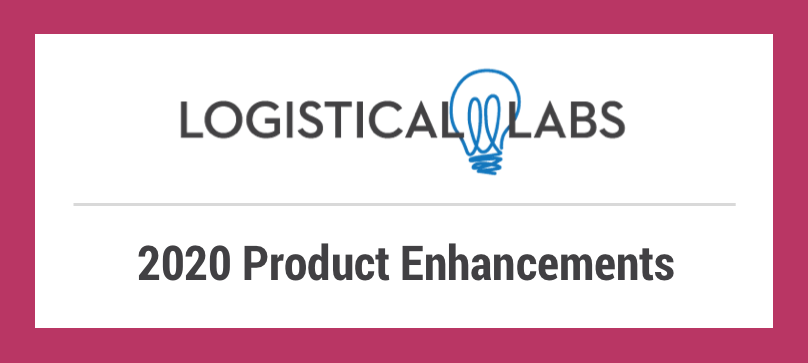 Reflecting on a Great 2020 with Logistical Labs
It's been a busy year for Logistical Labs! Across our product line, we have introduced key enhancements to drive up value for our customers. Below is an overview of these enhancements. Click the links to see a more detailed breakdown along with screenshots. Thank you so much to our partners for their support in 2020. We're very excited to continue enhancing our products in 2021!
Users can now see the standard deviation of their internal data on a lane by lane basis, sort and filter load history by multiple categories, have easier access to the top 200 US cities when performing a rate search, view mode-specific fuel schedules, and automatically attach a fuel schedule to a quote.
Users can now create pricing adjustments based on 3-digit zip ranges, use simple mark-up instead of gross margin when building out their sell rates, easily duplicate similar rulesets instead of creating new rulesets from scratch, set minimum costs on RPM adjustments, and more!
Users can now create special service pricing adjustments, adjust rates for day of the week, create carrier-specific pricing, and gain greater visibility of the pricing adjustments.
Users now have the option to include or not include guaranteed rates, have easier access and visibility to carrier-specific quote IDs, and give their customers access to a density calculator via a LoadDex shipper portal. We've also updated our integration with project44 to the latest version.
Users can create multiple copies of a quote to match the volume of shipments attached to it, see the week number in quote exports to analyze trends week-over-week, see the suggested cost and sell rate information attached to each quote, view the costs associated with each market source within their weighted average at the time of the quote, create new shippers directly in the send/save quote screen, create loads directly from the won quotes, have simpler visibility to customer-initiated quote negotiations, and more!
Users can now see a new page in LoadDex called Award Analytics that provides a high-level overview of every award in LoadDex so you can easily track your RFP execution across all awards. Users also have access to a new view called "My Awards" so they can quickly find the awards that matter the most to them, view available trucks and carriers' preferred lane data that matches the award criteria if that information is being shared with LoadDex, and more!
Users can now lock volumes and only allow carriers to provide rates, can award carriers based on rank instead of volume allocations, require carriers to confirm or reject awards, ask carriers for peak pricing to control for seasonality, and allow carriers to provide minimum rates on RPM bids.
Carriers can now see load descriptions and origin/destination instructions directly in their emails so they fully understand the requirements of the shipment before bidding and more!
API Integration
Logistical Labs has released a new version of our API that is more customer friendly and easier to navigate. The new API supports OpenAPI specifications, allows users to authenticate via OAuth 2.0, and gives users access to Swagger.
Site admins can now mass invite users via a spreadsheet import and have greater visibility over FTP imports.
Interested in learning more? Contact us using the form below to get started.